Introduction
Konark Plastomech is one of the forerunners in providing the latest in extrusion machinery and ancillaries for a wide range of applications to the plastic processing industry. After making a humble beginning in 1985, within a short span, Konark has become a trusted name in the plastic processing industry as a ultimate & customised solution provider for the extrusion machineries. With an eye on continuous Innovations & Customer Satisfaction, today Konark has made industry felt its remarkable presence in domestic as well as overseas markets.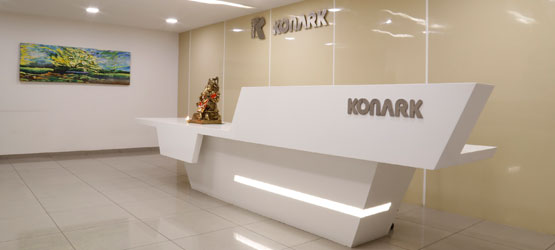 Strength
Experience of over a 35 years in the field of plastic processing industry.
Process Comply to ISO:9001:2008 requirements.
Having an installed base of over 1500 machines across the globe.
Well Qualified & Professionally driven workforce of more than 50 people working for different area under single nucleus.
In house Fabrication & Machining facility equipped with latest systems and machineries that made the manufacturing facilities capable of delivering the highest standards in term of quality, time and satisfaction.
Expanded capacities to cope up with simultaneous processing requirements at a time thereby to minimizing the lead time, an important aspect of any project.
In house Design & Development facility to deliver continuous innovation with latest technology that makes possible to provide an optimum customized solutions.
Intense distributed Marketing, Sales & Service network which results in a better reaching domestic & global markets.
Wide Range of Product Portfolio comprising all kind of product requirements for the extrusion machineries.
Management… Making a meaningful difference to our customers
Konark Plastomech is in the manufacturing of plastic extrusion machinery and ancillaries. Mr. Kantibhai Pithwa (MD) and Mr. Jaymin Pithwa (Executive Director) have contributed distinctive enterprising and technical endeavor, as a result we have earned eminent reputation by providing top quality and high efficiency equipments and services to our customers worldwide. Our customers have come to expect the finest from us. The company has a team of skilled technical professionals that keeps strict observation on the entire manufacturing process. Every member of this team is an expert in their respective area of operation. In the fast growing competitive market of plastic extrusion machinery, Konark Plastomech stands out as a growth-oriented and towering company.
Kantibhai Pithwa (MD)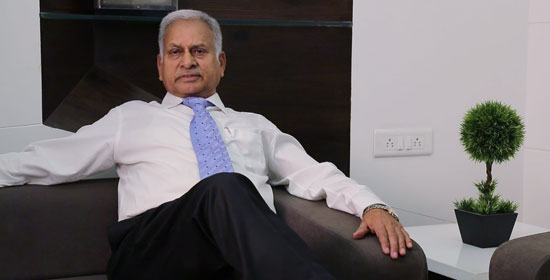 Dear Friends, The success of our company can be attributed to our ability to continually identify and respond to the changing demands in plastic extrusion machineries. We believe that success is not measurable on paper or necessarily in numbers, but in the great sense of accomplishment that can be realized through manufacturing latest plastic machineries and making a difference. Thus, we have set ourselves as the leading provider of latest extrusion machinery and ancillaries for a wide range of applications to the plastic processing industry. As world class technology leaders in plastic extrusion machineries, we continually reach out to new and different points of view to succeed in the global marketplace. We give our full support and encouragement by providing equal opportunities to the young generation so that they reach to their full potential. Our values of respect and involvement remain consistent. These values are embraced by our people and have played a major role in our success so far. These values will continue to do so going forward. Our expert team is always ready to welcome challenges and opportunities of serving the changing demands of our valuable clients by successfully upgrading the technology. Sincerely,
Kantibhai Pithwa
Managing Director
Jaymin Pithwa (Executive Director)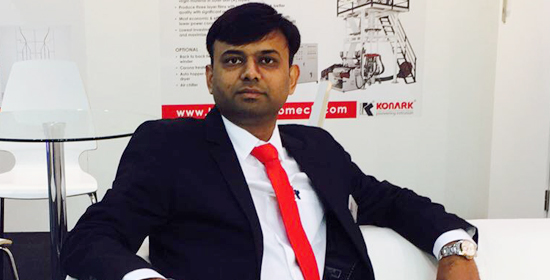 Dear Friends, To embark on a journey of success one needs the tools of preparation, planning and strategy. These lead to the path of growth and high quality operation. Each and every team member of Konark realizes the responsibility and this is the reason, today the company endeavors to be one of the most successful companies manufacturing latest technology plastic extrusion machineries. The success and eminence of Konark began as the dream of one man extended to be transformed into the dream of many. We strive to accomplish our dreams and goals to bring greater brilliance in the future. Our streamlined and efficient manufacturing capabilities, enables technical excellence, high quality production and cost effectiveness. Also our well monitored marketing and distribution network, aims at attaining brand equity among our wide-reaching customer base. Our efficiency is a result of our employees. They have made Konark one of the outstanding companies in Plastic processing industry. Each of our team members brings diverse backgrounds and specialized disciplines to deliver one thing that our customers want most – RESULTS. Sincerely,
Jaymin Pithwa
Executive Director